Our history goes back to 1986 when we started with a work boat and skiff.  Back then our main business was log float building and repair.  Our founding philosophy was to provide our clients and employees with a safe job site and quality workmanship in a productive manner. 

Today we still hold fast to that original concept with a Corporate and Operational focus on safety, quality and value to achieve complete team success.  Our clients have benefited from our ability to think outside the box and adapting sound engineering to unique situations.  

Our main area of business is wood and steel pile and heavy timber works. However, we also do maintenance, painting, welding, steel works, plumbing, or just about anything that needs to be done on a dock, wharf, barge, ramp, abutment, bridges, etc.  Tuff Marine Products Ltd. excels at working in remote locations and adverse conditions.

We are experienced in marine and tidal concrete forming and placing.  We work on land, foreshore, or water.  We have been involved in numerous vessel salvages, pump out oil, fuel, and other contaminants.  We also have a portable foam billet installer for adding Styrofoam floatation under docks and floats.

Tuff Marine Products Ltd.  can design and build all types of floating docks and breakwaters.  We supply treated timber, cement and steel pontoon floats.  From concept to onsite design and build, we offer extremely competitive pricing and would welcome the opportunity to be involved in your next project.

If you have any questions regarding a service we provide or a project we have completed, give me a call and I will be glad to assist you in any way I can.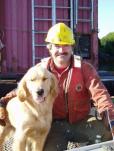 Joe McAlister

Owner/Operator

Tuff Marine Products Ltd.

All Rights Reserved. © 2009 Tuff Marine Products Ltd.

Web Site designed by Nancy Barnes

Tuff Marine Products Ltd.